Linocut Printmaking
After several other artists recommended I try Linocut Printmaking, based on my work in Scratchboard, I decided to give it a try. 
​ 
Linocut, also known as lino printing or linoleum art, is a printmaking technique similar to woodcut printing. A design or image is carved into the linoleum pad surface using a sharp knife or v-shaped chisel, where the uncarved (raised) parts left behind will be rolled with ink, and pressed to paper to create a print. Similar to Scratchboard, it is the parts left behind that will create what the viewer sees.
Although the thought process is similar between the two mediums in how the artist must focus on negative space during technique, there are strong differences between the physical processes and materials used. 
​ 
My first attempt was a simple landscape of a tree. As a side note, the actual tree is quite visible, residing on the North East side of the High-level bridge in Hamilton, just to the left of the Look-off facing the Harbour. And I ended up reprinting this Lino onto a page from an old book about the history of the Postal Service in Britain, on which there was a story entitled "Mrs. Hues". I subsequently titled this print just that, "Mrs. Hues".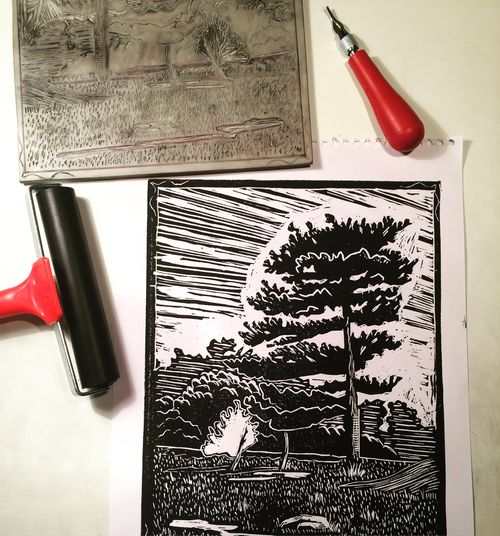 In my second attempt, I went with a little more whimsy, and carved out a dramatic weather scene at a lighthouse. I had a lot of fun with this and came up with a few ideas of expression that became the foundation for subsequent pieces in both Lino and Scratchboard. I still really had no idea what I was doing but I knew I was enjoying it and it allowed me to think about my techniques in Scratchboard in a different light. I continued exploring the lighthouse theme with more familiar subjects.
Weather at Peggy's Cove. Growing up in the Halifax area, I have always been in love with rocky coastlines and the life of the sea, especially lighthouses. Peggy's Cove is one of the most photographed lighthouses on the planet. If you have not already, a visit is a must.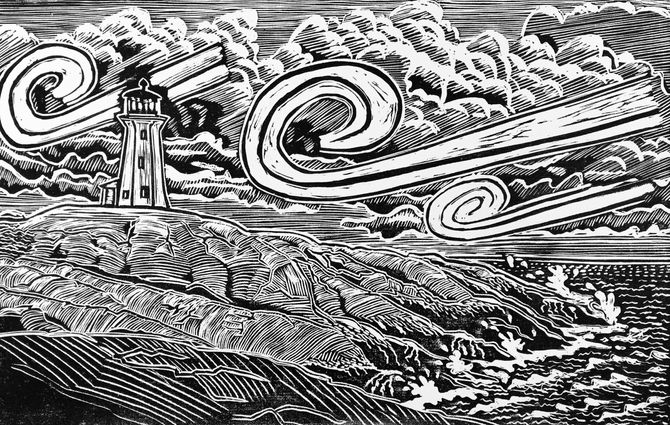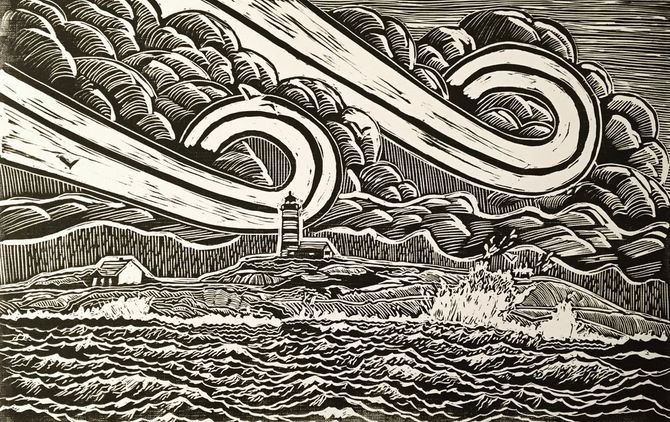 Sambro Island Afternoon. The Sambro Lighthouse, is located on an island at the entrance to Halifax Harbour . Built in 1758, it is the oldest surviving lighthouse in Canada, its construction is a National Historic Event, and it was designated a national historic site in 1937.
After developing a little confidence, and feeling inspired by the beauty that surrounded me in the historical architecture of Hamilton, Ontario, I decided two of the Ambitious Cities most famous landmark buildings provided the perfect subjects.